---
Memorial Weekend Special!
May 24 thru May 26th
3 nights in our Deluxe Beachfront Cottage for only $450.
(Rate is based on two people. Each additional person is $30/day extra.)
2019 cabins are booking fast! Send an email or call if you are planning your vacation!
(715)945-2665 or email us at indiantrailresort@yahoo.com


Weekly cottage openings & partial week cottage specials for 2019



Enjoy pleasant family fun, swimming, canoeing, hiking and, of course, fishing where walleye, crappie and smallmouth bass abound and where the Musky is king!

Our resort's historic "Little Red Bar"
was featured in the book, Bottoms Up,
A Toast to Wisconsin's Historic Bars & Breweries.

Come have a cold drink in our famous
bar and let us share our tavern's unique ambiance with you.

---

LARGE Infrared Propane Grill with additional griddle for Lakeside Motel use.

Click Here For Lakeside Motel/Bunkhouse.

---

John & Brenda Dettloff
Welcome You To Indian Trail Resort

Celebrating our 83rd year in business!!

Our nostalgic atmosphere will remind you of simpler times and provide you with a peaceful escape from today's fast paced world.

Relax in the comfort of our cottages' screened in porches, as you gaze out at a beautiful sunset and listen to the magical call of the loon.

Weekly cottage openings & partial week cottage specials for 2019

*OPEN 1st weekend in May thru 2nd weekend in October

*CLOSED FOR THE WINTER SEASON with the exception of the
Beachfront Cottage...please call (715)945-2665 or email us at
indiantrailresort@yahoo.com to make a winter booking

---
Winter Drawdown On The Chippewa Flowage...A History

Indian Trail Resort is Nestled on the scenic and secluded shores of the world famous Chippewa Flowage


See Video Of The Chippewa Flowage Fishing Adventure

See Video Of a 46" Musky catch on 8/8/13 - Guided by John Dettloff

See The Video Of One Of Our Guests Catching A 43" Musky

See a Midwest Outdoors Clip With John & Larry Ladowski
7 Lake Front Cottages

Private Piers with Electrical Outlets

Picnic Tables & Grills

Screened-in Porches

Reasonable Rates

700 Feet of Shoreline on 50 Acres

A Wilderness Setting (No Development)

Sandy Beach & Fire Pit (Sunset Views)

"Musky fishing is not just a MAN'S SPORT!"
Brenda caught this 30# beauty
in August of 2008.
---

At Indian Trail Resort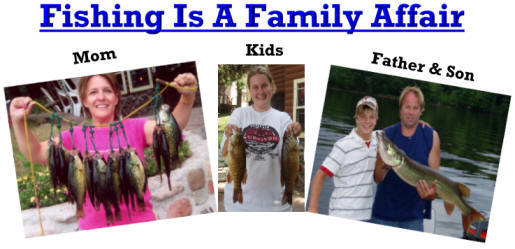 Paddle Boats & Canoes (Free)

Good Boat Launch Ramp

Boats, Motors, Guides, Bait, Ice

Dockside Gas & Oil

Full Liquor Bar & Pizzas

10˘ Juke Box

Probably the Last 10˘ Bowling Machine

Smoke Free Bar with Adjoining Patio for Smokers

Off site massage therapy available for our guests...To make an appointment, Click Here
---
TODAY MORE TROPHY MUSKIES ARE BEING CAUGHT THAN EVER BEFORE
ON THE CHIPPEWA FLOWAGE. JOIN US AT INDIAN TRAIL RESORT AND
EXPERIENCE OUR GREAT MUSKY FISHING FOR YOURSELF!!!!


9/25/14 - Matt Swiatkowski proudly
hefting his beefy 46" musky


Rick Warren With His 47.5"
2018 October Musky


9/24/14 - Guide, Al Denninger, holding
Mike Blaska's 48 1/2" catch

As Hemingway's Santiago once said, "September is the month of the big fish." And this was again proved this past September when our guests caught two 30# class muskies in just two days.
It was an unforgettable
Father/Daughter moment !!


Ashley's nice hybrid musky!

The Chippewa Flowage is an unspoiled area where water recreation can be enjoyed by all !

The scenic waters of the Flowage are

truly a paradise for canoeists and kayakers !

---
7/9/04 - Mike Markowicz
pictured here at the right, with his 39 Pounds 11 ounces, 52˝ Inches Musky

Your Vacation Adventure Is Waiting !!





Fall On The Chippewa Flowage

This is one of the most beautiful times of the year. The explosion of Autumn colors will dazzle the eyes.

Whether its Walleye, Bass, Crappie or Musky, you will find it at Indian Trail Resort.

The cooler weather also brings the promise of some great fishing.



| | |
| --- | --- |
| John Dettloff With a 34 pounder on a fall evening! | 11 year old Parker Coleman was guided by John Dettloff to this 47.5" Musky on 9/25/08 |


In October 2007, Pat O'Brien caught
a 42", 44" and this 46" Musky
all in one day !


John Dettloff with this late fall 34# release.


Mike Drover with two October Trophies

Brenda Dettloff with a 28# Fall beauty.
---
The Little Red Bar…
Where the people are friendly, the beer is cold,
and the fish tales are many!!!
The historic 'Little Red Bar' welcomes visitors and guests as Indian Trail Resort celebrates another season on the World Record waters of the Chippewa Flowage. Each year an impressive count of Musky are caught out of Indian Trail Resort, with 98% of those Musky being released.

Its secluded location is only minutes away from prime Musky water and is in the vicinity where Louie Spray's World Record Musky was caught.

Come have a cold drink in our famous
bar and let us share our tavern's unique ambiance with you.
---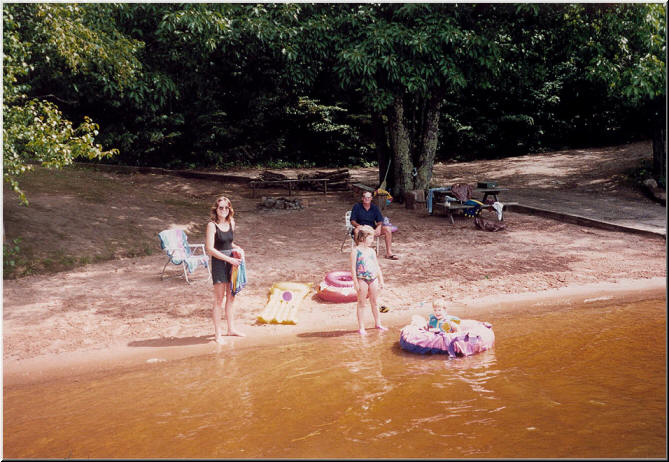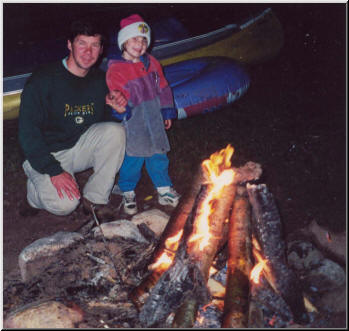 During the day, the family can enjoy swimming or sun bathing at our private beach.

The shelter of the trees makes the beach a great location for an afternoon fish fry.

In the evening, the fire pit on the beach is an excellent option for getting the family together and roasting marshmallows, hot dogs or making smores.
---
Indian Trail Resort has a full liquor bar and pizzas as well as a fine selection of quality Musky lures and, of course, live bait and ice and dockside gas.

Indian Trail Resort gets you off to a good start !
All new guests are treated to a lake orientation conducted by
fishing guide John Dettloff.

On your complimentary trip with John, he will point out some of the lake's breathtaking scenery, the bountiful wildlife and, most importantly, he will show you some of the lake's nearby hottest fishing spots.
John, Brenda and Pat Dettloff would love to have you spend
your next vacation at Indian Trail Resort.

WRITE TO:
Indian Trail Resort
7431 N. Chippewa Flowage Road
Couderay, WI (54828)
Call (715) 945-2665
---
Email Notice
If you use one of the free Email systems like Yahoo or Gmail you will need to right click and copy email address then paste when emailing us:
If you are using an Email program that is on your computer like Microsoft Live Mail, you can just click on the Email address to automatically open an Email.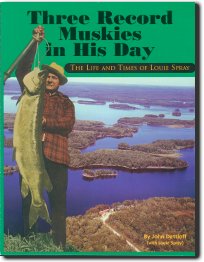 Recently featured on CBS television's program, "CBS Sunday Morning," check out "Three Record Muskies in His Day," the fascinating book that has captured not only national acclaim, but has also been featured three times in one of Great Britain's leading angling magazines.
This book is a unique Northwood's novel about the life and times of one of Wisconsin's greatest outdoor legends, Louie Spray. Sure to capture the interest of anyone who enjoys Northwood's nostalgia, outdoor adventure, and Muskie fishing, this book promises to take you on a rare journey back to a most fascinating era in Wisconsin history, as seen through the eyes of the region's most flamboyant outdoorsman.
John Dettloff's new book Topwater Tactics & Tales is now available.
---
Resort Information | Cottages | Bunkhouse | Gas/Oil | Guide Service
Rate Sheet | Musky Chart | Email Us | Links